Nurbs modeling software Rhinoceros - McNeel , ZDA
Rhino 5.0 the world's most versatile 3-D modeler now handles bigger projects, faster, with more than 2,000 enhancements.
Faster Results With more than 1,000 modeling, editing, and interface enhancements.
Big projects run faster with 64-bit and enhanced graphics coprocessor support.
2-D display up to 25 times faster.
Light-weight extrusions and more efficient meshing.

Izredno zmogljiv, uporabniško prijazen in cenovno ugoden Nurbs modeler
Rhinoceros® z lahkoto omogoča modeliranje sodobnih izdelkov zahtevnih oblik
Modeling enhancement
include robust variable blend tools, improved Booleans, and G-infinity™ blending.
Editing
new features include UDT for free-form deformation of all geometry types, feature recognition for solids editing and history for editing surfaces by changing their input curves.
Interface enhancements
including SmartTrack™ technology, heads up prompts, advanced tooltips, and live help with video clips.
Display enhancements
take advantage of the latest graphic card technology to provide a major speed improvement, custom advanced display modes, new analysis tools, dual-screen support, and stereo.
Rendering and animation enhancements
including faster basic rendering, advanced texture mapping tools, updated Flamingo and Penguin, Brazil r/s, and new third-party renderers from V-Ray and Maxwell.
2-D drawing/drafting
tools including line styles, line weights, hidden lines, dimensions, hatching, page layout and printing/plotting.
Mesh modeling
, editing, analysis, repair, and rapid prototyping. Major enhancements in mesh creation and editing. Also many new tools for STL repair and 3-D printing.
Analysis
with new tools for both measurement and display. Also enhanced tools detecting problems and evaluating model quality so the problems downstream can be avoided.
Large projects support
with hierarchical layer management, file locking, and enhanced support for worksessions, blocks, and reference files.
Compatibility enhancements
including improved PDF, AI 8+, STEP, DWG/DXF, PLY, DGN, FBX, SolidWorks, Google Earth, SketchUP, and WAMIT support.
Software developer tools
for users and third-party developers include an update C++ SDK, a new .NET SDK, and a new rendering SDK (RDK), and a update openNURBS Toolkit.
New Flamingo nXt
brings the features of Accurender's
raytrace
and
radiosity
rendering technology to
Rhinoceros
.
| | |
| --- | --- |
| | |
RhinoCAM

Več o RhinoCAM

RhinoCAM is a plug-in that is completely integrated in Rhinoceros and requires Rhino to be installed in order for it to run. It is
not
a standalone application.
RhinoCAM comes in two configurations:
RhinoCAM Basic
This plug-in is a general purpose machining program for the general machinist. RhinoCAM includes 2-1/2 axis, 3 axis and hole making operations. It comes with hundreds of post-processors and a post-processor generator to create user definable post-processors.
Packed with sufficiently powerful manufacturing methods this easy to use package is not only effective but also attractively priced for the budget conscious or entry level buyer.
RhinoCAM Pro
This powerful package is ideal for mold, die and tooling, wood working, rapid-prototyping and general machining markets. This product boasts of powerful toolpath generation strategies coupled with tools for efficiently controlling the cutting tool for detailed machining capabilities, while not sacrificing ease of use. Has all the basic functionality as well as additional features suitable for demanding users with sophisticated manufacturing requirements.
4 Axis Add-on Module for RhinoCAM Basic
RhinoCAM 4th axis Add-On module can be added on the RhinoCAM Basic product. It is included in the RhinoCAM Pro module. Key features of the product are:
4th Axis Indexed Machining
Continuous 4th Axis parallel roughing and finishing operations
Continuous 4th Axis Engraving of curves including projection on surfaces
4th Axis drilling with sorting
Advanced 3-D toolpath simulation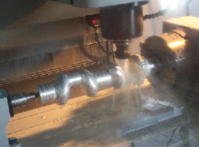 Designed in Rhinoceros, Toolpath programming with RhinoCAM Pro 4th axis, Haas CNC

Rhinojewel
is a Jewelry Design Software which lets you create 3D models of jewelry and other luxury items easily, precisely and quickly.
Download Rhinoceros v 4.0 Evaluation version
www.rhino3d.com
www.flamingo3d.com
http://www.mecsoft.com/Downloads.shtml
http://www.rhinojewel.com